This weekend, producer Rob Jarosinski paid a visit to Crypticon Minneapolis with his wife and their two daughters. The event is a yearly celebration of everything horror, featuring celebrity signings, a film festival, cosplay, and lots and lots of horror-themed vendors. Check out their awesome The Shining-inspired cosplay below: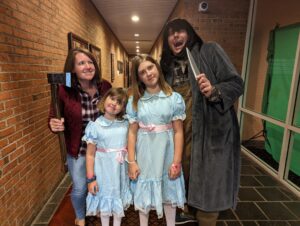 It was so nice for them to meet with so many folks from the Midwest horror community and chat with them about Hauntology. If that sounds right up your alley, don't worry. There are horror conventions all over the United States and worldwide, all year round. Especially if you live in the Los Angeles area, there is a robust horror culture to be tapped into everywhere.
If you haven't attended a horror con before, here's a little guide as to what you can expect. For tips on cons in general, first check out this wonderful piece by Catherine Clark, who is also one of Hauntology's producers.
Celebrities
A lot of conventions also like to reunite various cast members from iconic franchises, including bringing together 19 different actors who played Michael Myers in the Halloween franchise, and this year's reunion of Scream's Neve Campbell, Skeet Ulrich, Matthew Lillard, and Jamie Kennedy at Texas Frightmare 2022 in Dallas, TX. Horror conventions tend to be a draw for everyone from heavy hitters Kane Hodder (who played Jason Voorhees four times from 1988 through 2001) and Elvira to cult favorites like the late Joe Turkel (who played the bartender Lloyd in The Shining) and Miko Hughes (who played iconic child characters in Wes Craven's New Nightmare and Pet Sematary) for autographs and photo opportunities. Just be careful: if you ask Hodder to choke you, he really will.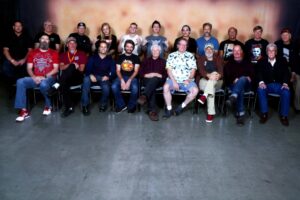 Costumes
If you've ever wanted to dress up like your horror characters more than just once a year on Halloween, this is absolutely the place to do so. Even if you yourself don't want to dress up, any horror fan can play their own personal trivia game trying to guess what movie everyone has come dressed up as. People love to go all-out for horror conventions, and one particularly exciting development since 2018 is the proliferation of creative ways folks recreate the flower dress from Midsommar.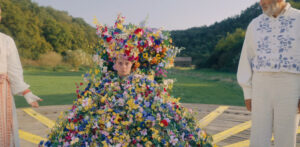 Vendors
Make sure you hit up the ATM before coming to a horror convention, because you're probably going to end up taking home a bunch of swag. At horror conventions you can find everything from horror-themed home goods like pillows and magnets, figurines and action figures, rare DVDs and Blu-Rays, and even sculptures and busts of iconic characters. There is almost always a huge selection of posters you can't find anywhere else, if you're in a home decorating mood.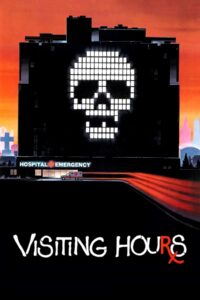 Events
Horror conventions, depending on the size, can have all kinds of special events. This includes everything from full-fledged film festivals to haunted mazes to makeup demonstrations to live recordings of horror podcasts about horror films, cryptozoology, true crime, and more. If you're bringing little ones, you may want to make sure the haunted mazes and scare actors are in a specific room, but usually there is a distinct delineation of where you might expect to be scared on the show floor.