We're very proud of Hauntology cast member Abi Esmena for her co-star role on this week's episode of the MCU Disney+ series She-Hulk: Attorney at Law! The series stars Tatiana Maslany as Jennifer Walters, the cousin of Bruce Banner (AKA The Hulk), who develops her own ability to become a lean, green, fighting machine. Only, this Hulk fights injustice as an attorney rather than a superhero, though she'll find herself with more than enough opportunity to fight her way out of a problem.
Abi Esmena appeared on episode 6 of the series, titled "Just Jen" and directed by Anu Valia. You'll be able to catch her as a bridesmaid throughout the wedding, which takes place across the entire episode! In honor of the episode's premiere, Hauntology producer Rob Jarosinski hosted a Q&A with Esmena about her experience on the big-budget project.
She-Hulk Q&A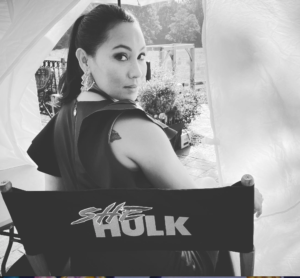 After watching the episode, Abi, Rob, and a group of Hauntology fans and crew members took to Zoom to break down what it was like. One year ago, Esmena spent three weeks in Atlanta helping bring an episode to life. It's an excellent illustration of the sometimes frustrating, sometimes slow, but frequently magical experience of an actor that she shares throughout the conversation.
The amount of work that goes on behind the scenes to bring you some of your favorite shows and movies involves a lot more than many viewers might expect. In addition to her description of the blood, sweat, and tears that went into the episode, she breaks down the glitz and glamour of being on a Marvel set.