It's Halloween weekend, folks. Although Hauntology is not a viewing option this spooky season, considering the fact that we're only two-fifths of the way through production, here are some of the best and most frightening segments in previous horror anthology projects. While there are plenty of other segments that are terrific, these are five we'd particularly love to highlight.
#5"I Was a Teenage Werebear" Chillerama (2011)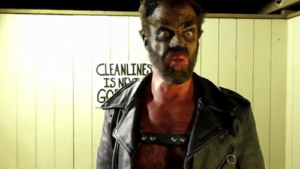 Written and directed by Tim Sullivan
Certainly the queerest entry on this list, "I Was a Teenage Werebear" is a John Watersian riff on suburban high school featuring actual gay porn star Brent Corrigan as a student who is bitten and uncontrollably transforms into a monstrous leather bear. It's a deeply low-budget affair, but a completely affable and fun romp that also features a cameo from horror stalwart Lin Shaye.
#4 "The Gas Station" Body Bags (1993)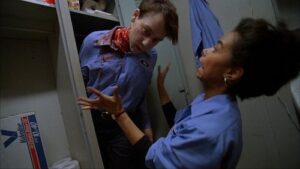 Written by Billy Brown and Dan Angel; directed by John Carpenter
John Carpenter returns to the genre he helped create with 1978's Halloween in this slasher riff about an attendant (Alex Datcher) working the graveyard shift at the world's creepiest gas station while a serial killer (Robert Carradine) prowls around the property. This delectably spooky amuse-bouche features cameos from Sam Raimi, Wes Craven, and An American Werewolf in London's David Naughton.
#3 "Boys Do Get Bruised" Tales from the Hood (1995)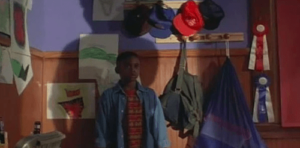 Written by Darin Scott and Rusty Cundieff; directed by Rusty Cundieff
Tales from the Hood is an across-the-board harrowing and prescient film about the Black experience in America, but this segment is a standout for its visual creativity. A young boy (Brandon Hammond) has been making disturbing drawings of a monster attacking him that his teacher (Rusty Cundieff) realizes may be him subconsciously expressing that his mother's boyfriend (David Alan Grier) is abusive. This segment visually expresses a young boy's imagination as well as its supernatural denouement in an effects-forward explosion that highlights the story's emotional impact.
#2 "They're Creeping Up On You!" Creepshow (1984)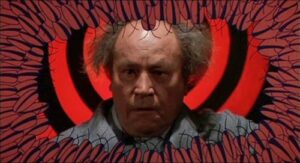 Written by Stephen King; directed by George A. Romero
Business mogul Upson Pratt's (E.G. Marshall) predilection for squashing the little guy won't help him when his immaculate apartment becomes infested with giant, unkillable insects. If you have any sort of bug-phobia, this segment will certainly get under your skin in a major way.
#1 "Safe Haven" V/H/S 2 (2013)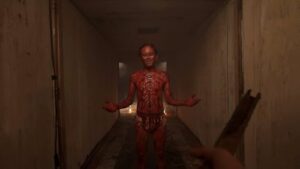 Written and directed by Timo Tjahjanto and Gareth Evans
This segment eats up nearly half of the run time of the entire feature, and it earns every minute of that expansive length. The story follows a documentary crew attempting to expose the inner workings of a mysterious cult in Indonesia. They quickly realize they have bitten off more than they can chew, and things go from bad to worse to holy shit in a manner of minutes, combining all-out action, skin-crawling horror, and a few well-deserved laughs.